Surface Grinding
High Precision Horizontal Surface Grinding
High precision, horizontal reciprocating surface grinders are used to achieve flat, parallel and square surfaces on critical components. Machines are equipped with magnetic tables to hold ferrous parts, while special work-holding arrangements are required for non-ferrous parts. Component/part size can be controlled incrementally in ten-thousandths of inches. Surface grinders will leave a smooth, linear surface finish, typically within a 16 - 32 RMS.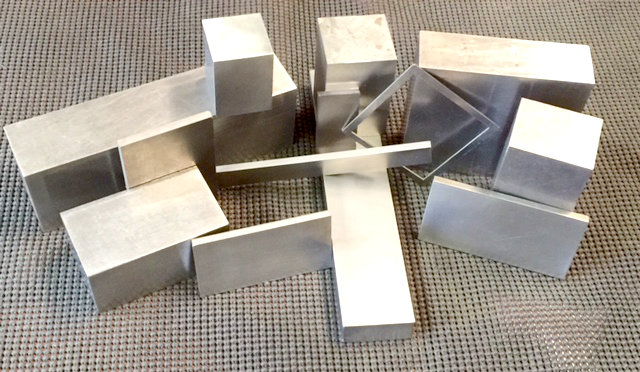 Flat, parallel, square and uniformity tolerances less than 0.001
Dimensional tolerance frequently requested is ±0.0005
Ferrous or non-ferrous metals, up to 62 RC
Our Surface Grinding Equipment

Danobat RT-2500
This is one of the largest surface grinders in the Midwest, equipped with a 24 x 78 magnetic chuck, for larger parts requiring close tolerances. When grinding six sides, a part having a 20-inch height is possible to grind here. We typically handle large machine ways and large base plates on this machine.
Danobat RT-1200
This surface grinder is our work horse, equipped with an 18 x 48 magnetic chuck, as well as a vacuum chuck attachment. Other special tooling for this machine includes magnetic sine plates, magnetic vee blocks and wheel dressing equipment which allows us to grind angles and radii if necessary. Dimensional tolerances typically achieved are +/-.0005. Flatness and parallelism requirements achieved are also impressive, typically under .001 TIR.
Okamoto 1224
This surface grinder is ideal for smaller parts. Equipped with a 12 x 24 magnetic chuck, and the same array of vacuum chuck, magnetic sine plate, magnetic vee block tooling options available on our bigger machines. Dimensional a geometric tolerances achieved are often superior to what our bigger machines provide.